Spring 2018 #YASH has begun! And you're hunting with Team Red!!
What is #YASH? It's a bi-annual event first organized by author Colleen Houck as a way to give readers a chance to gain access to exclusive bonus material from their favorite authors … and a chance to win some awesome books and other prizes! This Spring, there are 80 authors divided into six teams. I'm on Team Red. Each author on each team has agreed to give away at least one book to the grand prize winner. As a scavenger hunter, you can hunt on as many teams as you want, but you'll need to play fast. This contest is only open April 3-8, 2018. When you visit each author's site, make sure you look for other chances to win extra prizes as a lot of authors have giveaways going on separately that you don't want to miss (I have one going on, so make sure you check it out!)
What exactly are you hunting for? A number. Each author on the team will have a special number embedded in their post. Add up the number clues for your team, head over to the Rafflecopter giveaway that matches the team color, and enter the number. That's it. As you read my post, you will see I've mentioned the number a few times (just in case you missed it). While I mention it several times, you will only use it once. If you win the grand prize for the team, you'll get a book from each of the authors on the team. Only entries with the correct number will qualify to win.
Rules: the contest is open internationally. Prizes must be claimed within 48 hours or the prize will be re-drawn. You must be 16 years or older, or have the permission of a guardian to enter. Duplicate entries will be deleted. To be eligible for the grand prize, you must submit the completed entry form by April 8, 2018, at noon Pacific Time. You must enter to win before then. Good luck and happy hunting! Entries sent without the correct number or without contact information will not be considered.
Want to see all the books involved in this Hunt? Check out the Goodreads List and start salivating.
I'm super excited to be hosting the awesome Colleen Oakes, author of WAR OF THE CARDS.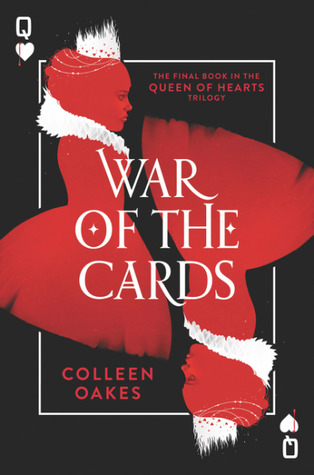 I can't wait to read this book. I've read at least 15 retellings of Alice in Wonderland and I could read 15 more. It is one of my favorite novels. Of course, I could name 15 other titles that I love, but I'd rather focus on Colleen's book, WAR OF CARDS.
So who is this gal, Colleen Oakes?
Colleen Oakes is the bestselling author of books for both teens and adults, including The Queen of Hearts Series, The Wendy Darling Saga and the upcoming YA novel The Black Coats. She lives in North Denver with her husband and son and surrounds herself with the most lovely family and friends imaginable. When not writing or plotting new books, Colleen can be found swimming, traveling or immersing herself in nerdy pop culture.
She currently at work on her third YA fairytale series, a YA thriller and a collaborative YA fantasy. You can catch up with her through any one of the links below:
And now on to the EXCLUSIVE CONTENT … (yay!)
Colleen is giving us a lot of really awesome stuff! Want to hear the music that inspired the book? Check out her Spotify playlist. Want to see the artistic inspiration for her book? You've got to head over to her Pinterest board. And who doesn't love that fan cast, huh?
A playlist for the book: Queen of Hearts Playlist, a playlist by Colleen Oakes on Spotify
A Fan Casting: Mae Whitman as Dinah, Kevin Costner as Sir Gorrann, Aaron Tveit as Wardley, Tom Hiddleston as Cheshire and Amanda Seyfried as Vittiore.
You can also find a special post by Colleen on Instagram about YASH so make sure you check it out and say hi. @colleenoakes
CONTINUE THE HUNT
Next author on the list to visit is the super-amazing, talented author,
Erin E. Moulton
!!
Make sure you spread the word!
ADDITIONAL GIVEAWAY!!!
I'm running another special giveaway. Everyone who leaves a comment below (it could be anything: favorite YA book, favorite YA character, etc) will have a chance to win a signed paperback copy of the 1st book in my Chronicles of Fallhollow series, IN THE SHADOW OF THE DRAGON KING:
AND winner's choice of one of the following $10 gift cards
Good luck to everyone and happy hunting!!