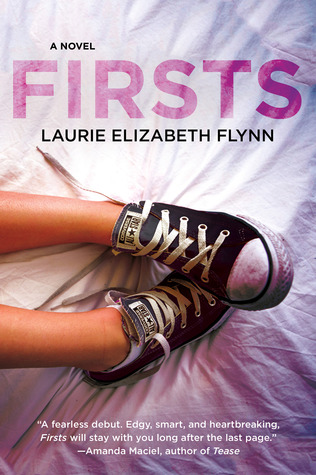 Recently, I had the opportunity to read the ARC of FIRSTS by Laurie Elizabeth Flynn.
Guys, I have to tell you, I had doubts about this one as it's about this promiscuous girl in high school who wants to teach male virgins how to 'do it right' with their girlfriends for the first time.
I'm not one to read books about sex, and I'm certainly not one who wants to promote sex among high school students, but it was written by this lovely girl in my Sixteen to Read blog group: Laurie Elizabeth Flynn, and we are all reading each other's ARCs, so I set my preferences aside and dug in.
Let me tell you. I started this early in the afternoon, like around 1:30, and I finished it by 5:30. I couldn't put this book down. It was nothing like what I thought it would be. The characters are fresh, they're well thought out, and I felt something for every single one of them. And let me tell you, the main character has some amazing friends, and we find out how awesome they are when the story takes its downward spiral.
I don't want to give too much away on this one, but I will tell you, it totally deals with stereotypes and the way girls are judged for their sexual behavior. I wish there had been a bit more addressing of the double-standard and that guys should be held as responsible as girls for their sexual "mistakes", but honestly, the story holds a very important lesson. I was overwhelmed by how much I really loved this book, and I highly recommend it.  I give it 4.5 stars out of 5.