I recently had the pleasure to read MAD MAGIC by Nicole Conway, and it has to be one of the best YA fantasies I've read this year. How much did I love it? Does this say anything?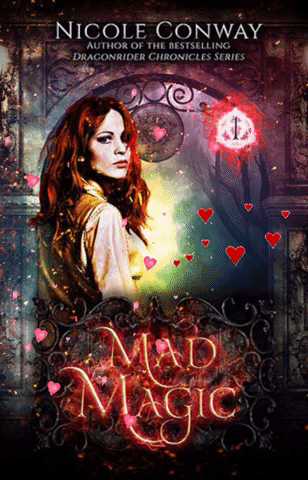 Paperback, 300 pages
Published November 14th 2017 by Month9Books
ISBN 1945107863 
(ISBN13: 9781945107863)
Edition Language: English
What's it about?
Josie Barton is a high school student living in terror. Invisible creatures torment her everywhere she goes, constantly getting her into trouble at school, and even haunting her apartment. But just when Josie thinks things couldn't get any worse… she meets the guy from across the hall.
Zeph Clemmont is a changeling with enemies in all the worst places, fighting to undo a curse that threatens to end his life. Survival means he will have to swallow his pride and trust Josie with all his darkest secrets.
With the help of a gun-slinging shaman and the enigmatic Prince of Nightmares, Zeph and Josie are only a heartbeat away from defeating one of the most diabolical faerie villains their world has ever known.
This book has it all: romance, danger, magic, changelings, evil villains, sexy faeries (and not the flittering-about kind, I might add). These fae are not to be trifled with and they will have you salivating.
Zeph is your rough, tattooed biker looking dude. Eldrick is your dark-haired, swoon-worthy, sophisticated hottie with a mysterious side that will leave you breathless.
The story unfolds with high school student, Josie Barton, getting in trouble once again for something she has no control over. It's been this way for a long time, with invisible creatures reeking havoc on everything around her. Just when her world goes really south and she feels there is no hope left, in steps Zeph, the scraggly neighbor with that 'you're-so-hot in a bad way-I could-eat-you-up' swagger.  But there's something weird about Zeph and in a short amount of time, Josie discovers just what his secret is, as well as the secret behind the invisible creature living in her apartment. But the secrets and intrigue don't stop there. Nope, they just keep coming and coming, and the life Josie thought she knew shatters all around her. She discovers things about herself and her father she never dreamed possible, and with the help of Zeph and Eldrick, she figures how who she is and becomes everything she is meant to be.
There is a climactic battle in the end that left me riveted on the edge of my seat, but the novel also ends with a fantastic HEA, at least for now.
It's really hard to write a review of this book without giving spoilers away. Let me just say this novel was full of unexpected twists and turns, the characters are layered and I enjoyed peeling each layer back to expose their true selves. This was a fun book that can be read in one sitting.  It's got everything in it for YA fantasy readers, and fans of Sarah J. Maas' Court of Thrones series will find this equally enjoyable. I hope to see more books in this series.
Here's a small excerpt of what you can expect from MAD MAGIC
"A weeping stone." Eldrick was reading over my shoulder.His closeness made me jump in surprise. "A what?"
"It goes back to our pilgrimage into your world," he explained.
"A very, very long time ago, even before the first songs. Our kind came into this world through an ancient gateway, fleeing from an unspeakable terror that was ravaging our own realm. Our home had become a place of darkness and fear—a place without moonlight."
My skin prickled. "What … kind of terror?"
Memories flickered in the depths of his silver eyes. "There is no word for them in the human language. We called them skiia—the devourers. They cannot be bargained or reasoned with. Their only motive is to drain every drop of magic they possibly can, and as they do, they spread like a plague."
I swallowed and sank back in my seat.
"We came here as refugees after our own world was overrun,"
Eldrick murmured. "Humankind looked upon us with awe and adoration. We made our home here, eager to share this beautiful world with you, but not before sealing away the ancient gateway so that the evil destroying our own homeland would never find its way here."
"The Fibbing Gate," I whispered.
Eldrick's body shuddered at the name. "I was very young when it happened. My memories of it have all but faded to nothing. In that same way, such stories of the gateway have become myths. My father told them to me as a child." He ran one of his fingers over the drawing on the page. "Weeping stones were said to guard it. They stones are made of iron, which as you know has incredible power against faerie magic, so that no one would ever be able to open it again."
"Why would my dad be interested in it?"
His expression steeled as he studied the page. "I don't know," he finally admitted. "But there's someone else who might."
Link to Goodreads:
https://www.goodreads.com/book/show/27212885-mad-magic  
Purchase Links:
Google Play | BAM | Chapters | Indies | Amazon | B&N | Kobo | TBD | iBooks
One (1) winner will receive two rose gold necklaces – one with a crown pendant (for Eldrick) and the other with a feather (for Zeph) (INT)
Giveaway Link:
Nicole is the author of the children's fantasy series, THE DRAGONRIDER CHRONICLES, about a young boy's journey into manhood as he trains to become a dragonrider. Other works include MAD MAGIC (Sept 2017), FAULBENDER (tbd), SCALES (tbd), and THE DISTANCE BETWEEN STARS (May 2017).
Originally from a small town in North Alabama, Nicole moves frequently due to her husband's career as a pilot for the United States Air Force. She received a B.A. in English with a concentration in Classics from Auburn University, and will soon attend graduate school.
She has previously worked as a freelance and graphic artist for promotional companies, but has now embraced writing as a full-time occupation.
Nicole enjoys hiking, camping, shopping, cooking, and spending time with her family and friends. She also loves watching children's movies and collecting books. She lives at home with her husband, two cats, and dog.