Oh my goodness. It has been such a long time since I've read a middle-grade book so full of snark, fun, memorable characters and a whopping good Goonies sort of tale of adventure and excitement.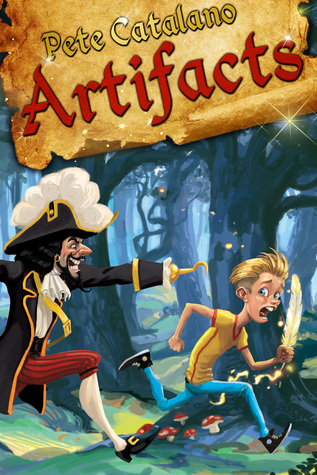 First of all, who doesn't love this cover? OMGosh!! The colors are so vibrant. The font is perfection!  I don't know who designed the cover but they did an excellent job.
With a cover like that, I suppose a synopsis would be good. Here is what Goodreads has to say:
***
It's funny how one little letter can change a person's life. Jax and his friends have been planning the summer of a lifetime at Camp Runamuck. However, when one of them is facing summer at a school desk for failing English, they watch those plans crash and burn!
At the last moment they're given a way out.
An extra credit assignment to find several fake artifacts for a fairy tale display their teacher is presenting at the local library.
Thinking they've hit the easiest-extra-credit-ever jackpot, they begin rummaging through any piles of junk they can find. As they start putting the clues together, they realize that what they're really searching for is one authentic artifact that can rewrite fairy tales!
Enlisting the aid of the Lost Boys, Jax and his friends battle fairy tale villains to see who can get their hand, or their hook, on it first.
Purchase Links:
BAM | Google Play | Chapters | Amazon | B&N | Kobo | TBD | iBooks
My Review:
I have to tell you, I was hooked from the first word.  12-year-old Jax Murphy is a trip, but not as much as his friends Crunch, and the Wahoo brothers. And Jax's relationship with his sister, Dana, is classic middle-grade humor. I love Jax's parents in this novel. They are like the coolest parents a middle-schooler could have.  and Korie, well, she's high-spirited and just as eager to join in the mix of guys as the guys are.
I loved the premise behind this story and was delighted to see it take on a Captain Hook and the Lost Boys storyline. I've read many upper YA stories based on fairytales, but this one is definitely a romping fun read for the middle-grade boy. What a breath of fresh air!
There were times I felt events unfurled a little too easily just so the kids could get things to go their way, but those parts were covered up by such funny antics and marvelous interaction between the characters that I forgave the conveniences. There was non-stop action and the adventure to find the artifact that would send everyone to Camp Runamuck was crazy fun. I found myself grinning throughout the story and rooting for these bumbling, yet endearing kids.  There were twists and turns, evil villains, magic and snappy dialogue. I can't imagine a middle-grader not eating this story up.  Have you got a reluctant middle-grade reader? Give them this book. It's crazy, insane fun.
I totally give the book 5 stars out of 5. I loved every minute of it and recommend it to anyone who wants to just escape into a funtastical and magical fairytale-esque story. Pete Catalano, I bow to your greatness. Please continue these stories. I could see a whole series of Jax Murphy books, you know, like Goosebumps, just different.
About Pete
Pete Catalano's books are written for kids of all ages — and adults who secretly never grew up. He lives in Charlotte, NC with his adorably funny wife and two neurotic dogs. Pete was a theater major in college and tries to keep the 'suspension of disbelief' in his life as much as he can.
Website | Twitter | Facebook | Pinterest |Goodreads
GIVEAWAY!
Giveaway Information:  Contest ends June 3, 2016
Five (5) winners will receive a digital copy of Artifacts by Pete Catalano (INT) click Rafflecopter below.
Wanna follow more links to the tour to see other reviews? Read interviews? Click on the banner at
top of the page to  see the entire tour stop.