Who doesn't love an awesome dragon?
Every year, artists, filmmakers and writers of fiction (myself included) work diligently to test the limits of their imaginations to bring their audiences wondrous dragons to either make us laugh or terrify us in our waking and sleeping moments. No creature seems to do either of these better than a dragon.
There is no doubt in my mind that the best books of fiction about dragons is Anne McCaffrey's Dragons of Pern series, which begins with this beauty: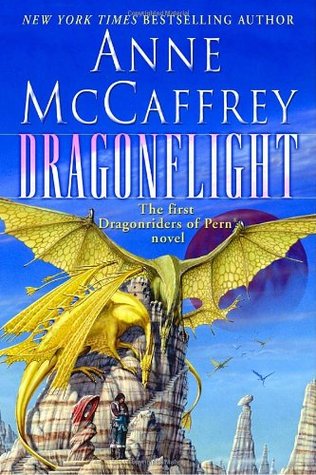 But what about film?  My top 5 picks to date are in order from #5 to #1. Keep in mind, I am not grading the movie but the dragon.
#5.  The Reluctant Dragon
This is an old 1941 animated Disney film featuring a whimsical dragon who, instead of being a fierce, fire-breathing terror, would rather sit and recite poetry.   It is an awesome film for kids. The knight, Sir Giles, is unlike any other you will encounter. If you have small children, this is a must see.
#4.  Falkor – THE NEVERENDING STORY

Who doesn't love a luck dragon, especially ones with soft features of your favorite pup? For those not familiar with the story, it's about this bullied kid named Bastian who literally dives into a fantasy world through the pages of a mysterious book, and helps a warrior to stop a dark storm called the Nothing from engulfing the world of Fantasia.  I thought it was a wonderful family film. Falkor, the dragon, is so loveable and cuddly but fierce when needed in a good way.  I wasn't impressed with the second film in the series, but the 3rd was quite original.
#3.  Dragonheart
This film is the story of the last surviving dragon (Draco) and a disillusioned dragon-slaying knight who join forces to stop an evil king who was given partial immortality. While I hated the name Draco for the dragon, and I found the film lacking in plot, I did love Draco's character and Sean Connery brought this character a charisma and charm that made the audience root for the beast.  Again, a family film, not an academy award winner, but look at that dragon!
#2.  Vermithrax Pejorative of Dragonslayer
This is a Disney film about a young wizarding apprentice who is sent to kill a dragon which has been devouring girls from a nearby kingdom. The plot is hokey and cliché. The acting not so great, but this dragon is to die for!  And what a name for a dragon! Vermithrax Pejorative. Can you say, awesome?
#1 – Smaug
We all know Smaug from the Hobbit series. While this dragon didn't have as much screen time as I would have like, Smaug is the ultimate film dragon.  Look at his size! The beast is fearsome and cunning and is the epitome of a bad-ass dragon.  I wish I'd experienced more of him because he's just so epic, and of course Benedict Cumberbatch added the perfect voice to the perfect cinematic dragon terror.
Of course there were other dragons I loved:  Pete's Dragon, Toothless, the dragons from the Game of Thrones series, but these are my faves.
What are yours?