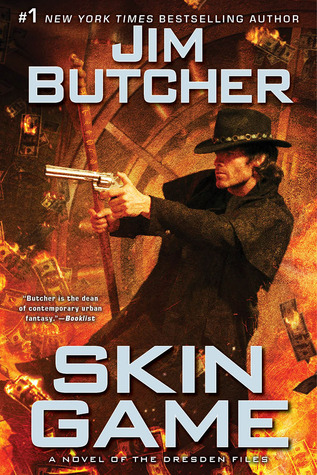 ISBN: 0451464397
(ISBN13: 9780451464392)
Published: May 27, 2014
Publisher: ROC
********************
Wow, this has got to be my favorite book of 2014, which surprises the heck out of me as I really thought CRESS by Marissa Meyer would top my list.
I don't even know what made me pick up this book. Maybe it was that Clint Eastwood-like cover, or it could have been
THE BLURB:
Harry Dresden, Chicago's only professional wizard, is about to have a very bad day….
Because as Winter Knight to the Queen of Air and Darkness, Harry never knows what the scheming Mab might want him to do. Usually, it's something awful.
He doesn't know the half of it….
Mab has just traded Harry's skills to pay off one of her debts. And now he must help a group of supernatural villains—led by one of Harry's most dreaded and despised enemies, Nicodemus Archleone—to break into the highest-security vault in town so that they can then access the highest-security vault in the Nevernever.
It's a smash-and-grab job to recover the literal Holy Grail from the vaults of the greatest treasure hoard in the supernatural world—which belongs to the one and only Hades, Lord of the freaking Underworld and generally unpleasant character. Worse, Dresden suspects that there is another game afoot that no one is talking about. And he's dead certain that Nicodemus has no intention of allowing any of his crew to survive the experience. Especially Harry.
Dresden's always been tricky, but he's going to have to up his backstabbing game to survive this mess—assuming his own allies don't end up killing him before his enemies get the chance….
—————-
But I don't think it was that at all. I opened up the book and started reading, and I couldn't put it down.  Terry Pratchett fans – this book totally rocks over Discworld and I LOVE Discworld.
I can't even begin to tell you how much I loved this book and I haven't read any others in the series. Guess what.  I'm going back to the beginning and read them all because this author is that damn good.
I'm not going to give a review because this is one of these books, one of those series you have to read for yourself.  All I know is that I'm hooked.
What was your fave read of 2014?